Immersive Insights: Haptic Highlights from the SIGGRAPH 2023 Conference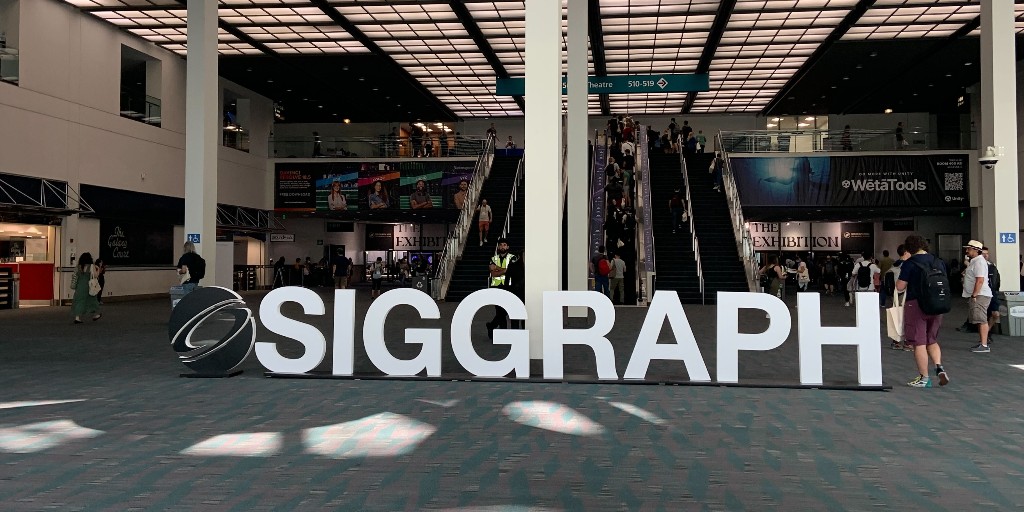 Special Interest Group on Computer Graphics and Interactive Techniques (SIGGRAPH) recently concluded its highly anticipated 2023 conference. Celebrating its 50 years, the event was held in Los Angeles from August 6-10, 2023. The conference spanned a range of topics–from the latest advancements in computer graphics and animation, to AR and XR, and of course, haptics.
#SIGGRAPH2023 – we're back!Looking forward to an awesome week in LA. Let me now if you want to catch up and talk research 🙂 pic.twitter.com/1fHM6pchPr— Matthias Niessner (@MattNiessner) August 6, 2023
Keynote Speakers
SIGGRAPH 2023 kicked off the conference with keynote presentations from professionals within the computer graphics industry. Dr. Darío Gil from IBM discussed what's next in Quantum Computing; Author, Lawyer, and Professor Kathryn Kleiman embarked on telling the stories of programming pioneers you may not know existed. There were also sponsored keynote presentations from NVIDIA, Sony, Unity Technologies and Vast, where they showcased their newest technologies and how it impacts creativity and innovation.
.@nvidia CEO Jensen Huang is setting the stage for the rest of his keynote with the history of Nvidia in #AI and graphics and talks about H100 and the last time he spoke at SIGGRAPH in 2018 where he launched RTX. #SIGGRAPH2023 pic.twitter.com/Ilugt1fief— Anshel Sag (@anshelsag) August 8, 2023
Emerging Technologies Program
A highlight of the SIGGRAPH conferences is their Emerging Technologies Program, which aims to showcase the latest innovations in graphics and interactive techniques. Emerging technologies include haptic and tactile interaction technologies, smart sensors, tangible interfaces, and VR, AR and XR innovation.
Some of the haptic technologies featured in this session include action-origami-inspired haptic devices for interacting with virtual materials and objects in VR, a haptic backpack that modifies the user's perceived jumps, a weight-shifting VR controller that provides vibration, impact, and shape perception, and LiveEdge: a novel method for livestream interaction on smartphones that utilizes an electro-tactile sensation through the edges. 
Jumping illusions with @romainnith at #SIGGRAPH2023 (https://t.co/UHIgWdRezP) part of Romaine's quest into new methods to achieve smaller yet full-body #haptic experiences! pic.twitter.com/HqjCWRVW8v— Pedro Lopes (@plopesresearch) August 7, 2023
Haptics at SIGGRAPH 2023
Aside from that, haptics were also present on the show floor. The Tachi Laboratory at The University of Tokyo created an exhibit to showcase a collection of haptics technologies they'd built from 2007 up to 2017. Sony R&D also presented an augmented haptic VR experience by combining two weight-shifting versatile controllers as part of the event's academic program. There were also poster presentations that featured a study about enhancing mid-air haptics via galvanic vestibular stimulation and a study that proposed Bstick-Mark 2, a handheld virtual reality (VR) haptic controller that controls input from five fingers in real-time. There were also presentations and case studies about Text to Haptics—using generative AI to make tactile picture books accessible to visually impaired people by quickly designing tactile graphics using the img2img function.
DE editor @KennethwongSF tries out target practice with tactile feedback developed by Sony Corp at #SIGGRAPH2023 pic.twitter.com/qXQEKshNoc— Digital Engineering 247 (@DEeditor) August 9, 2023
この研究は好きだな文字から視覚障害者向けの画像生成落合陽一研究室の研究だったText to Haptics: Method and Case Studies of Designing Tactile Graphics for Inclusive Tactile Picture Books by Digital Fabrication and Generative AIhttps://t.co/7RzwEcHTmF#SIGGRAPH2023 pic.twitter.com/erbQ4rv5Gi— Dr.(Shirai)Hakase (@o_ob) August 10, 2023
Conclusion
The 50th edition of the SIGGRAPH conference offered attendees a glimpse into all the latest developments in computer graphics and interactive techniques. The event showcased how technology and AI impact creativity, bringing us one step closer to a more immersive and interactive augmented reality experience.
For more information about the event, check out their website here.